The Ugly Dance! How to get your music discovered! (Case-Study)
I go through huge amounts of links and information each day when it comes to the music business, but this is by far the coolest and funniest way of getting your music discovered I've seen in a very long time. (OK Go, eat your heart out)
The idea of The Ugly Dance is very simple. You go to the site, upload your picture and you can choose all kinds of maniacal ways of dancing. Here's me dancing like nobody's watching: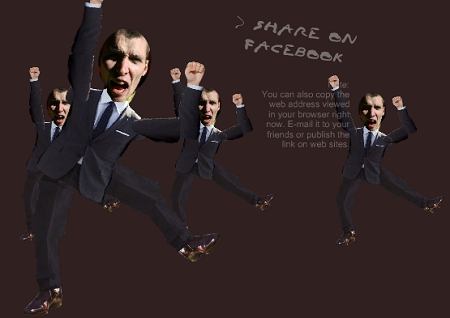 It's a project by Swedish band Fulkultur and appears to have been around for about half a year now. Obviously, this type of thing spreads. Getting your music heard by a lot of people (and what a catchy song it is). When I wanted to create a second dancer (to send to a friend), I got the following message: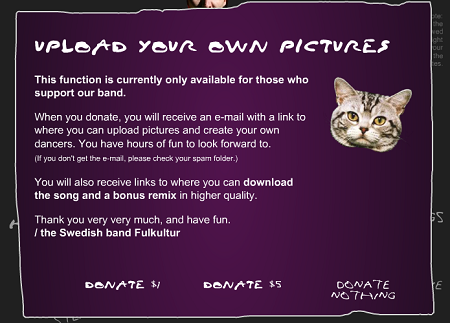 A very reasonable thing to ask… and since I was in such a great mood and figured the donation would not be much effort anyway, I went ahead and gave them some money, even though I think clicking the Donate Nothing button would still allow you to create more dancers (can anyone verify this?).
There's even a bunch of tribute videos and remixes out there (yes, every one of those words links to a unique video, have fun).
These videos are the result of the ECOSYSTEM at work!
Perfect example of using something viral to getting your music discovered, but also creating a movement which is easy to join, because it's obvious what you have to do to participate (also read Derek Sivers' post about this). Not sure if they're making any money out of it directly (from the donations), as it might take quite some bandwith to keep this site online, but at least indirectly, by creating an ecosystem and giving them what they want (new music, live shows, merchandise, signed albums, perhaps an Ugly Dance at your own party?).
If you haven't done it yet, go create your own Ugly Dance!
Tags: ecosystem, fuldans, Fulkultur, music, music 2.0, music biz 2.0, music business, music marketing, The Ugly Dance, Ugly Dance, viral, web 2.0