The Dutch Tradition of Sinterklaas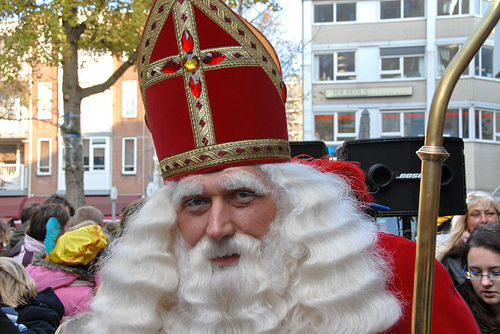 Photo by FaceMePLS
Said to be the origin of Santa Clause, the Dutch tradition of Sinterklaas is one of the most typical traditions one can experience in the Netherlands (besides Queen's Day). Sinterklaas means Sint Klaas, or Saint Nicholas in English. On December 5th, Dutch families get together and exchange gifts. If the family has young children, Sinterklaas himself brings the presents to the door or through the chimney, usually in secrecy (especially when using the latter

) or it's done by one or more of his helpers. This leads me to the first oddity about this day of the Greek-Anatolian saint, Saint Nicholas of Myra.
Black Petes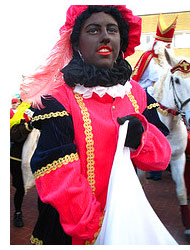 That's the name of the helpers. When Sinterklaas comes to Holland on his steamship from Spain in November, he brings along his cheeky helpers which then give out candies to the children. Yes, he's from Turkey, but comes from Spain, I don't know why. I suppose he's an expat like me. Back to the helpers… They have different functions. One is the guiding Pete, the other does poems, the other sings, the other climbs, the other rhymes, the other wraps the presents and they all have nicknames based on their function, much like the Smurfs.
Originally the Petes looked like south Europeans, but over the course of 50 years, they started getting darker and darker and around 1900 they looked like 'darkies'. Until this day, this is still the day us Dutchies dress up to entertain our kids, as shown on the right (picture by Merlijn Hoek). The Saint and his helper, that was called a servant and a slave in a book that influenced much of current day traditions, are normally seen as friends and the Petes gladly help Sinterklaas, because he's old and cannot go around the whole country on his own. You can view the 19th century book that established much of the current day Sinterklaas tradition online.
When people started saying that this is racist, we started saying they're black because of all the chimneys they have to climb through to deliver their presents. It's a well-known scientific fact that soot from chimneys of houses with children living in them also causes afros and big red lips. Political correctness created Petes with faces painted in purple, green, yellow, you name it. This was not a big hit. Back to the chimney explanation it is.
Through the chimney, into your shoes
When Sinterklaas is in the country in the weeks leading up to the 5th of December, the children are allowed to put their shoe under the chimney twice a week or so, depending on the parents' generosity (and willingness to spoil their kids). I suppose the tradition varies a bit from home to home, but when I was young my brothers and I would first draw a picture for Sinterklaas. Then before going to bed we'd put one of our shoes under the chimney, with the rolled up drawing in it, a carrot for Sinterklaas' horse, and we'd sing Sinterklaas songs at the chimney. We would then go to bed and the next morning we'd find a small present (usually candy) in our shoe! Schools and even supermarkets also let children leave their shoe overnight for Sinterklaas.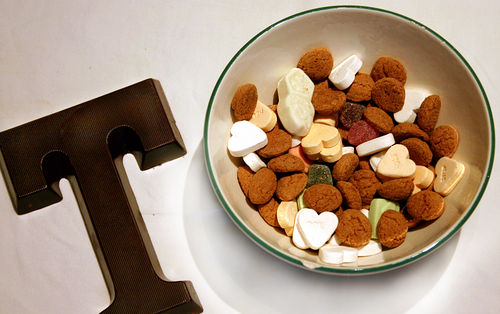 Photo by poederbach
Usually the candy you get will be kruidnoten or pepernoten, which are small ginger-bread like biscuits or speculaas-like biscuits (as seen above). You're also likely to receive a chocolate letter of the first letter of your name. These are cleverly nicknamed "chocolade letters", because this holiday's a feast of creativity! I have an aunt whose name begins with the letter I, so when she was young she always got the first letter of her second name, the R. Much bigger, at least to a child, since they all weigh the same. So, candy from the chimney!
Oh, unless you've been a bad child that is.
Kidnapped and taken to Spain
Children are warned that if they are not behaving well during the year, Sinterklaas will look in his Golden book and will not be able to find your name (which means no presents). One popular song goes "Wie goed is krijgt lekkers, wie stout is de roe" which means that who is nice will get something sweet, but who's bad will get a bundle of sticks in his shoe (a roe). If you've been particularly bad, you will be put in one of the sacks which Sinterklaas and his jolly slaves Black Petes use to take all the presents to Holland and you will be taken back to Spain. In recent years Sinterklaas has condemned this practice, saying that it was a thing of the past. Still 400 children are reported missing in Holland each year though. What are you hiding Sinterklaasje?
Presents!
That's what he's hiding. Usually they're dropped down the chimney overnight and unpacked in the company of family in the evening of the 5th of December. In my youth we'd be at our home with my relatives on the 5th and as my parents were cooking or doing whatever in the kitchen, someone would ring the doorbell and the presents would be there. As we grew older, faster and more familiar with what to expect, my poor parents had to increase their speed to run from the frontdoor around the house and back into the kitchen. If I remember correctly, usually my mom would come into the room and keep us busy for a moment saying "Heeeeeyyyy! Who do you think that is? Could it be…?" andddd it's a blurry memory, but I think they made us sing a song before having a look at the front door.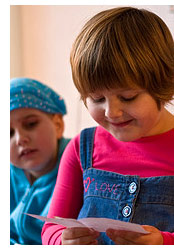 The presents are often accompanied by poems, composed by the Poetry Pete (or the Rap Pete in families with parents that try to be too hip). The child receiving the gift has to read the often wittily composed poem out loud as seen on the right (picture by hondjevandirkie). The poem often says things about the person receiving the gifts and hints about the content of the wrapping paper.
The unravelled wrapping paper is usually a welcome and interesting object for pets, cats and dogs alike. I am not aware of turtles' attitude towards wrapping paper lying all over the living room floor. But then again, I don't care.
If the parents actually managed to convince Sinterklaas to come to their home to deliver the presents personally, children are often left arguing at school over who had the real Sinterklaas coming to their home and who had a "helping Klaas" over. It's very important to be right in this case, even though in the end you're all wrong. Some kids already know this and spread seeds of doubt among their fellow classmates over the reality of Sinterklaas, those damn fascist toddlers.
Have fun!
That wraps it all up (no pun intended). For expats in the Netherlands, you can have a look at the Sinterklaas survival guide on Expatica. For lazy Dutchies, you can make your poems using a Sinterklaas poem generator.
I wish everybody lots of fun with Sinterklaas this year! Especially my family. Sorry I can't be there for the festivities for the second year in a row. Last year I celebrated Sinterklaas with some international exchange students while I was living in Sofia, Bulgaria (see the pictures). This year I'm avoiding the tradition – even though I live in Saint Nicholas' country… Turkey!
I know similar traditions take place all over the world, especially in Europe. What about in your country? Can you tell me a little about the December traditions where you're from or where you currently live?
BasBasBas.com is about a Dutch student living in Istanbul. I regularly write about my adventures in Istanbul and travels in the region. If you'd like to stay up to date, you can subscribe to my RSS feed or get email updates in your inbox. You can also follow me on Twitter.
Tags: Anatolia, children, December, Dutch, dutch tradition, holiday, holidays, Holland, origin of santa clause, Saint Nicholas, saint nicholas of myra, Sinterklaas, the Netherlands, tradition, traditions, travel, Turkey